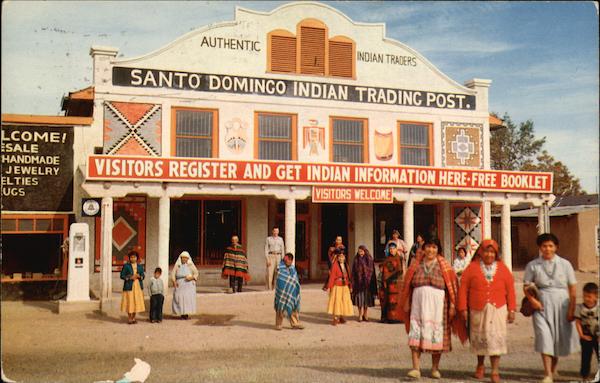 Santo Domingo Pueblo (also known as Kewa; Santo Domingo was the name given by the Spanish in 1600), is located between Albuquerque and Santa Fe, along the 1-25 corridor off Exit 259. For over 400 years, Santo Domingo Pueblo has been one of the central Pueblo communities in New Mexico and the homelands to many people for thousands of years. Their ancestral ties can be traced back to Mesa Verde and Chaco Canyon ancestors.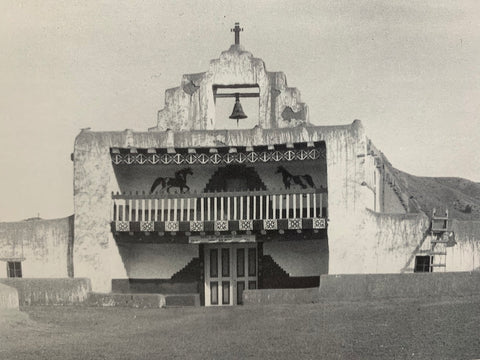 Public Event: Annual Feast – August 4th
Santo Domingo Pueblo honors the Pueblo's patron saint, St. Dominic, annually on August 4th. August 4th is one of the largest feast days in the southwest, more than 1,000 Santo Domingo Natives participate in the colorful Corn Dance.
Men, women, and children dress in beautiful ceremonial attire where they dance under the sun in the big plaza of the old adobe pueblo to the sound of chanting and pounding of drums. The Corn Dance in Santo Domingo Pueblo on August 4th attracts thousands of spectators from all parts of New Mexico and even from the far corners of the world.
Feast Day activities begin with a morning mass in the picturesque mission church at the east edge of the Pueblo. After mass, a statue of St. Dominic is carried in a procession from the church to a place of honor in a bough covered shrine on the pueblo plaza. Here, flanked by candles in the three-sided rustic bower, the inside is decorated with rugs and blankets. The statue remains in the shrine until the dance ceremony is completed, then returned to the church.
The Corn Dance begins by 10AM and continues through late afternoon. Members of the Squash and the Turquoise Kivas alternate in the dancing. Local Native artists ranging from potters, jewelers, and silversmiths display their work for sale on tables in the Pueblo; food stands and carnival rides are set up on the south side of the church.
Since this is a religious observance please respect our requests:
NO PHOTOGRAPHY, SKETCHING, VIDEO RECORDING, OR TAPE RECORDING WILL BE PERMITTED
NO ALCOHOLIC BEVERAGES ARE ALLOWED ON THE RESERVATION
Failure to abide by the above rules will result in a fine.
Public Events
Please explore the listed public events if you plan a visit to the Pueblo.
NOT ALL EVENTS ARE OPEN TO THE PUBLIC.